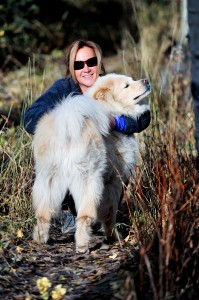 Hi, I'm Juli-Anne and this is my gorgeous dog Jasper. We live in Old Town in Park City, Utah along with my little daughter.
On photography – I was  hooked on it at a young age and spent hours in the darkroom and always had camera in hand.  Then I became completely passionate about  flying airplanes and took to the skies for many years, working as a commercial pilot. My camera gear was traded in for flight time. I picked up a camera again in 2008 and haven't put it down much since.
On animals – I've always had a soft spot for animals, photographing them has become a fun and unexpected fit. This has lead me to publish a book on dogs of Park City as well as now doing private shoots for clients of their furry family members.
My dog Jasper – He was discovered alone and in bad shape on the streets of a dirty city in the midwest. Thankfully someone took him to a safe place where he was granted the time for me to cross paths and find him via the internet. A trip to meet him in Michigan ended up with Jasper returning with me to Park City.  He's a true mountain dog, now living a happy life here and a wonderful addition to mine.
If you enjoy my images and style,  and would like me to photograph your favorite pets, feel free to contact me.  In the meantime enjoy the images.